Become a Reseller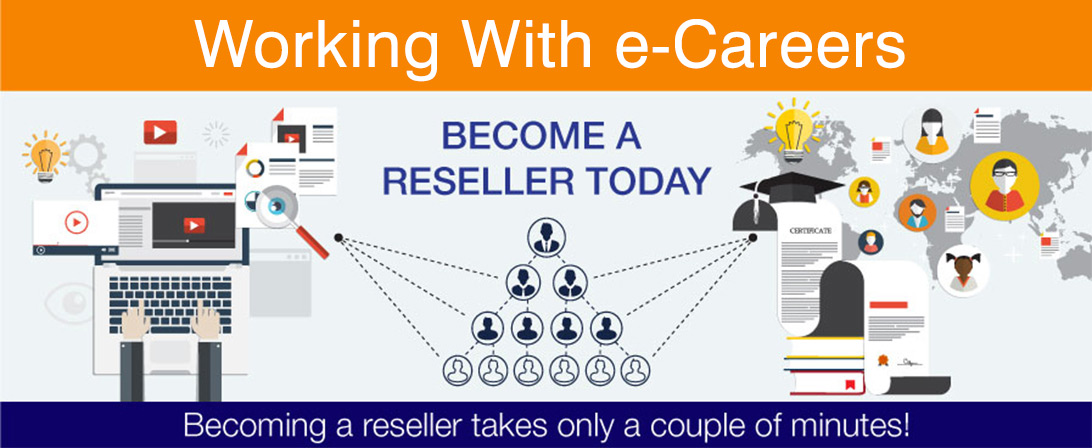 You now have the opportunity to work with e-Careers. The market leader in the development and delivery of online education.
e-Careers welcomes any businesses, entrepreneurs or educational establishments that believe they have the customer base, to promote our E-Learning courses.
You can become a Reseller of our huge portfolio of courses by following a very quick and easy process. This will open doors to a happy customer base, a great product offering and a healthy revenue stream.
With options to suit your budget, no fixed set up costs and low administration efforts, e-Careers is the perfect training partner.
RESELLER CHECKLIST
Please consider the following points before registering your interest to become a reseller.
Are you an established company?
Do you have a website?
Do you have a stream of customers or students or would benefit from online education?
Do you have marketing budget to promote the courses?
SOME OF THE MANY BENEFITS
Add a huge range of courses to your offering
New revenue stream for your business
No fixed setup fees
Low course costs
Healthy profit margins
Buy course credits to suit your budget needs
Flexibility to offer any course
Student support included
Tutor support included (depending on the course)
Students are automatically registered with all appropriate awarding bodies (where applicable)
No hosting or course delivery costs - Course is hosted and delivered via e-Careers
Ideal for all businesses with a need to offer E-Learning
BECOMING A RESELLER TAKES ONLY A COUPLE OF MINUTES!
Create an account with your basic details (make sure you click reseller interest button)
View your account and order tokens. The more you buy the bigger your discount!